Railroad Track Stabilization in Baltimore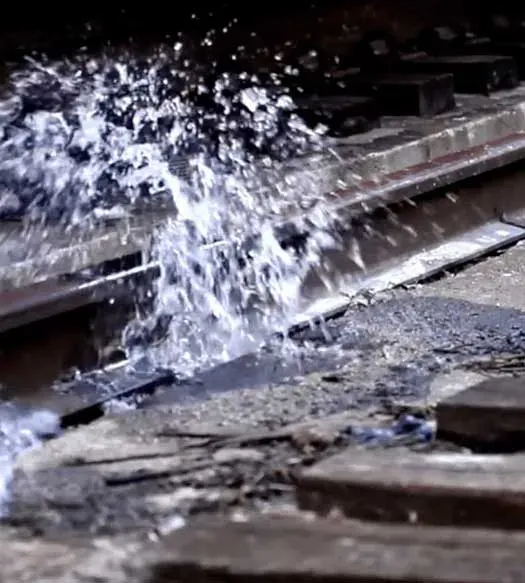 Problem
A railroad service customer in Baltimore, Maryland contacted URETEK with a suspected erosion problem. Surface observations indicated that voids were present below a 32-inch concrete railway substructure. The voids were likely the result of erosion by a constant flow of drainage water collecting beneath the ballast substructure. With heavy daily usage on this important railway, an extended amount of downtime was not a viable option. Additionally, issues related to accessibility and track geometry were also major concerns for the railway operator.
Analysis
Voids below the railbed were initially estimated by the customer to be as deep as 12 inches, stretching over several hundred feet of track. A differential in elevation was easily observable, and displacement of large quantities of water took place whenever trains passed over the problem areas. The job would require void fill, water elimination, and railbed stabilization, and all work would have to be completed within strict time frames defined by regularly scheduled service outages.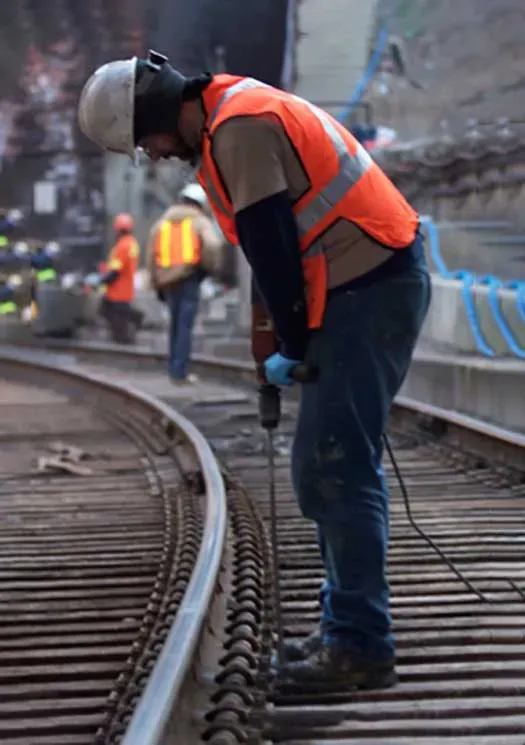 Solution
URETEK was chosen to fill the subsurface voids, eliminate further erosion due to water infiltration, and stabilize the railbed with URETEK Deep Injection® (UDI). Crews arrived on the scene and began work on the first identified section of track, which included a concrete railbed measuring 100 feet by 12.5 feet. URETEK technicians drilled through the railbed in accordance with a predetermined grid pattern. Injections were made directly through the railbed, and laser level monitoring equipment was utilized to detect vertical movement. On subsequent scheduled service outages, URETEK crews returned to complete work on an additional 300 feet of track suffering from the same erosion problems.
Result
During each of the scheduled service outages, URETEK crews were able to fill voids, eliminate water infiltration, restore proper water flow, and stabilize the railbed for between 100 and 150 linear feet of track. All work was completed in under 20 hours including set up, breakdown, clean up, and final inspection. The entire project was executed within the tight service outage timelines established by the customer, and co-scheduling with other maintenance projects eliminated the need for additional track outage scheduling. Most importantly, subsurface water was redirected, assuring years of trouble-free operation for the customer.
URETEK Deep Injection® (UDI)
Widely referenced throughout our industry, UDI involves the injection of structural polymer into base and subgrade soils to increase the load bearing capacity. This is achieved by injecting the polymer through small holes drilled directly through the pavement structure to depths determined by site-specific analysis. Our URETEK 486 Star® material flows easily into voids and weak zones within the soil mass below. Through a controlled chemical reaction, the expanding polymer compacts surrounding soils and applies a controlled pressure on targeted areas of the affected pavement above. If needed, a multiinjection design plan is utilized to gently return the pavement to its original grade. The composite material quickly cures into a strong, dimensionally stable, and water-resistant geomaterial, providing years of reliable service.
URETEK 486 Star®
URETEK 486 Star® polymer is a two-component, high-density, expanding thermoset polyurethane system. It was developed to be the ideal solution for under-sealing, void filling, lifting of settled pavement, stabilization and stiffening of weak soils, and for encapsulating and sealing buried infrastructure. URETEK 486 Star® is environmentally inert, non-toxic, and resists underground water erosion or weakening due to its industry-leading hydrophobic properties.